A recent report from the New Jersey Division Gaming Enforcement shows that the seven casinos located in Atlantic City earned a total of $244.8 million in August of 2017. While that might seem like a lot of money, it actually amounts to 0.4% less casino revenue than a year ago. Meanwhile, internet gambling, which is available at 5 out of the big seven casinos, enjoyed double digit growth across the board. So what exactly do these numbers mean for Atlantic City, casino owners and managers and the future of the gaming industry?
The Trump Taj Mahal Factor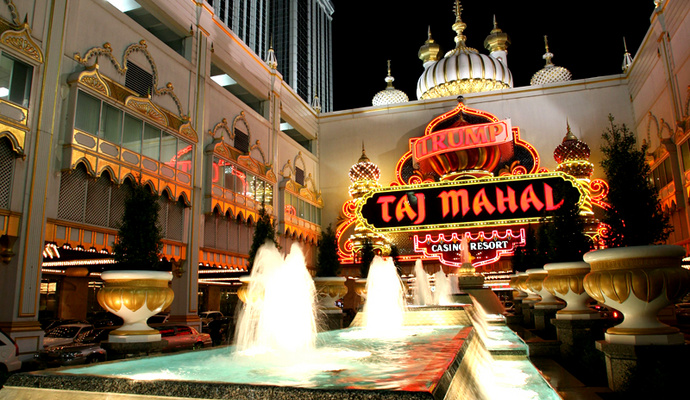 First, it is important to keep in mind that the numbers include earnings reports from the Trump Taj Mahal, which closed on October 9th, 2016. For those who have been following the history of this casino, the only surprise about the closing is that it was able to be avoided for so long. From the beginning, when the casino opened in 1990, it was at a financial disadvantage. The entire project was heavily financed and was involved in two separate bankruptcy filings by the parent organization, Trump Entertainment Resorts.
In the final days of the Trump Taj Mahal, owners and employee unions clashed over wages, pensions and health care benefits. After the last rejection of a possible deal by the union, the owner, Carl Icahn, decided to simply shut down the casino instead of investing $100 to $200 million to keep the casino afloat over the next year. Although the decision left approximately 3,000 employees out of work, it seemed like a reasonable decision for a business that had lost an additional $350 million over the last few years and showed no signs of becoming profitable in the near future.
What Atlantic City Casinos Actually Earned
Once you remove the doomed Trump Taj Mahal from the earnings report, the numbers start to look a lot more promising. As a whole, Atlantic City's casino revenue went up by 5.5% although both Caesars and Harrah's are in the red. Here is an exact breakdown of how the six casinos stacked up against one another and combined to offer an average revenue increase: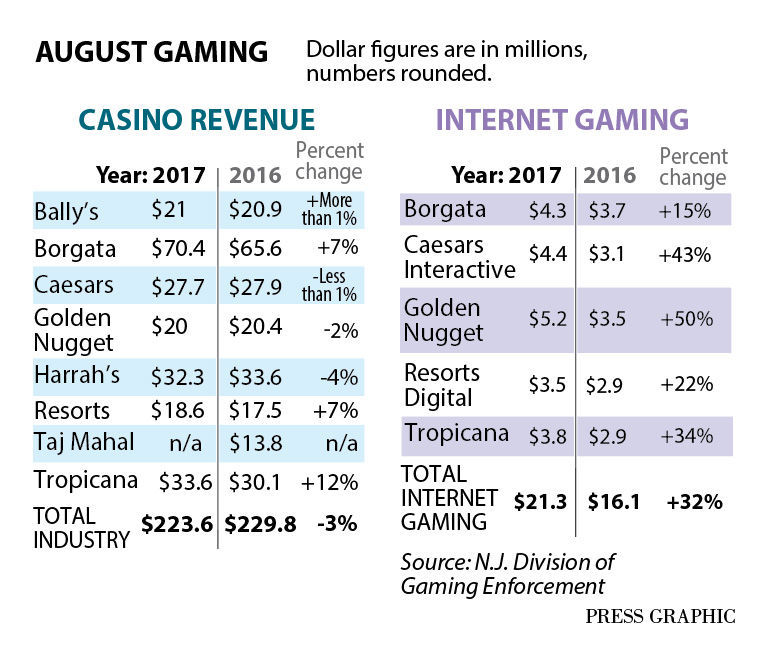 As you can see, internet gambling has been much more of a lucrative source of revenue for some of Atlantic City's oldest casinos.
How Does Internet Gambling Work?
As of 2017, there are only three states (Nevada, Delaware and New Jersey) that have legalized online gambling, which is heavily regulated by the state. In new Jersey, internet gambling became legal, but also comes with the following restrictions:
Players must be at least 21 years of age
The player must be located within New Jersey. This is verified through a GPS system.
Only Atlantic City casinos can offer internet gambling, which must be operated through a server that is located at the actual casino location.
In return, the state is able to tax online gambling revenue at a rate of 15%, which has resulted in $101.25 million in tax revenue since the practice first became legal in 2013.
How Can Brick and Mortar Locations Compete?
It is hard to compete with the convenience of being able to log onto your computer and gamble from the comfort of your own home. Yet, the physical casino locations are an important part of Atlantic City and provide services that simply can't be found anywhere else. For owners and managers who are looking to experience growth in both categories of in-house and online revenue there are a few key factors to consider:
Those who visit casinos are looking to gamble and hoping to win the big jackpot, but they are also looking for a total experience. They want a night out on the town. If people aren't going to be spending as much at the tables or slot machines, then it is important to attract customers with great shows and delicious food. You may even find that food, drinks and a good show are what bring people in and the gambling is only a secondary activity. The most important part is getting people through the door.
2. Reducing costs and improving efficiency
One way to increase total revenue is to earn more money overall, but you can also improve numbers by cutting costs. Sometimes, this can be something as simple as introducing more streamlined processes that increase efficiency and require less man hours, which are both valuable and costly.
For example, new technology like Casino Schedule Ease, allows casinos to easily handle scheduling and table assignments in order to optimize productivity and place employees in positions where they are strongest. In fact, Borgata and Tropicana Resorts have adopted this software and seen marked improvements. Casino Schedule Ease makes it a lot easier for employees to request time off and ensure that all openings are covered, which can be especially challenging in a business with 24 hour shifts. Finally, this technology can free up time for managers so that they can spend more time on other tasks.
3. Customer experience
This directly relates to the two previous areas mentioned. If you are able to implement tools and practices that allow you to better manage your casino and improve employee job satisfaction, these efforts will directly translate into a better customer experience. Combine that with great food and entertainment and you have created a destination and not just a place to gamble. Pay attention to every detail of the customer experience and provide superior service and you may just be able to get some of those internet gamblers off the couch and into your location.
Conclusion
The good news is that on the whole, Atlantic City revenue is up. However, it is important to recognize that these numbers are marginal compared to the spike in internet gambling. Any revenue is good, but brick and mortar locations cannot ignore this trend if they want to continue to stay relevant. It is important to not only recognize, but anticipate industry changes and begin to implement progressive technology and solutions that will work to both boost revenue and decrease operating costs. Focus on capitalizing on the traditional hospitality principles that preach good product and services while also utilizing the latest technology to empower employees and improve efficiency.